Our Mission
Service excellence, Honesty and Integrity
Paul's Garage and Auto Sales is commited to providing honest and accurate automobile sales and repair services for people in and around our community at an affordable price. It is our goal to treat people honestly, fairly and with kindness. Many repair shops in this industry have been known to fail at these core competencies. We pride ourselves in being honest and straight forward.
We do not put money ahead of people. Our customers are more than just "numbers" to us. We are committed to doing the right thing and taking care of you and your vehicle to the best of our ability. We have formed relationships with our customers. Many have become our close personal friends.
Commitment to Our Employees
We strive to provide a stable environment for our employees to work, so that they may have an income to support their families. We strive to maintain a safe work place for all employee.
Long-term Business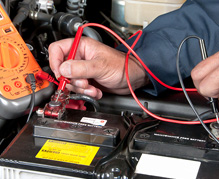 Putting the customer first.
Paul's Garage and Auto Sales staff is 110% committed to customer service, this is our promise to you. We strive for the highest standards in service and product while providing honest value to our customers. To all of our customers, we pledge our service excellence, honesty and integrity.
We will work to keep you moving! We strive to make you feel a part of the family valued and respected. We put forth solutions and recommendations that we believe are necessary to maintain a safe operating vehicle. We commit to you not to sale you something you don't need. We are here for the long term and not to make a quick buck.
Our goal is to have you as a customer for life. A customer that knows that they are respected and being taken care of like family. When you need service or repairs we want you to think of us first because of our honesty, integrity and commitment to you.
Ownership
Paul's Garage and Auto Sales is a small family owned business commited to doing its best for the customer.
Owner Manager: Ron was born and raised in Fortville and now resides in Ingalls. Ron is in charge of running the day to day operation while assuring your satisfaction.
Owner: Gail is a Fortville resident for more than 30 years. Gail participates behind the scenes to support Ron with back office needs.
Owner: Don was raised in Fortville. At 24 he followed his Architecture career to Florida and then to California. Don supports the garages technology needs.